Minisymposium on Poroelasticity 2012
Dear Participants of the Minisymposium,
thank you all for your contribution to this successful event. It was really a pleasure to have you as guests. Please find the group picture below.
We are looking forward to plan a second Poroelasticity Minisymposium on Tuesday, 19. February 2013.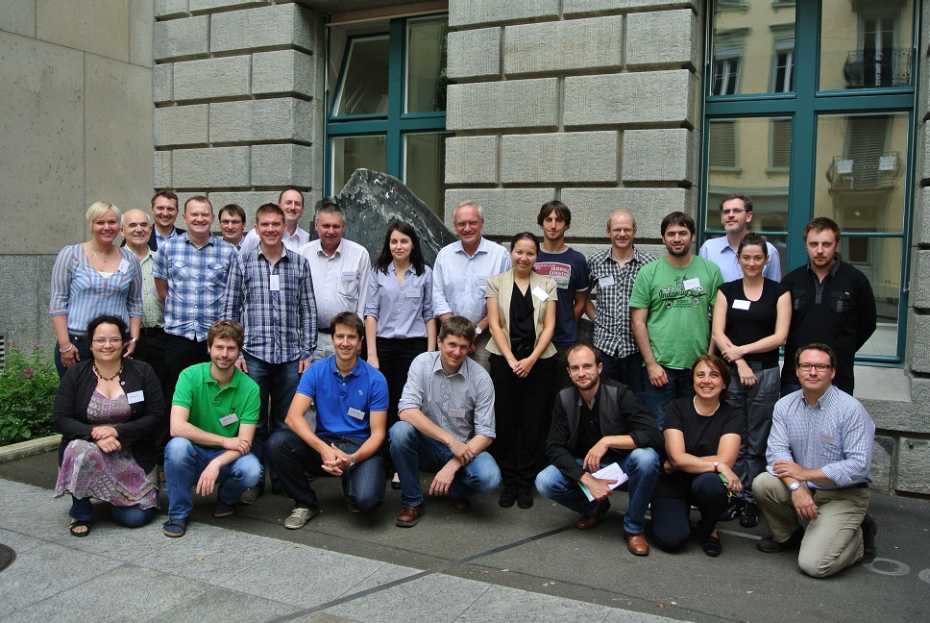 When?
We are organizing a minisymposium on poroelasticity in Zurich on Tuesday, June 26th 2012.
What?
It will be an informal one-day event (9:00 - 16:00) with short presentations and plenty of time to elaborate and discuss new ideas and research directions. Theory, laboratory experiments and numerical investigations will be covered.
Program of the Minisymposium 2012
Where?
The venue will be at our institute, which is in the NO-building at the ETH Zurich (Sonneggstrasse 5), Switzerland. Room NO E51.1.
What else?
On Monday (the day before) we will have additional activities:
Be our guest from 9:00 on
ETH Zurich
NO-building
Sonneggstrasse 5
Room NO E61
Visit of the earthquake simulator (15:00). More details...

Apéro on the J-floor of the NO-building (16:00)
Guided tour of the of the ETH Rock Deformation Lab (18:00). More details...

Dinner at the restaurant Crazy Cow (20:00).

Contact
Please contact us to express your interest in participating in the minisymposium or in any of the Monday-activities or for any other questions. If you wish to present a poster, please also contact us.

Who?
The following people have already announced their participation:
Angus Best (National Oceanography Centre, Southampton, UK)
Clarisse Bordes (University of Pau, France)

Emmanuel David (Imperial College London, UK)

Yves Guéguen (Ecole Normale Supérieure, Paris, France)
Stewart Greenhalgh (ETH Zurich, Switzerland)

Frans Kets (University of Leeds, UK)
Paulina Krakowska (University of Science and Technology in Krakow, Poland)
Asiya M. Kudarova (Delft University of Technology, The Netherlands)

Tobias Muller (CSIRO Perth, Australia)
Paola Sala (University of Bern, Switzerland)

Stefan Schmalholz (University of Lausanne, Switzerland)
Kathleen Sell (Johannes Gutenberg University Mainz, Germany)

Holger Steeb (Ruhr-University Bochum, Germany)
From Institute of Geophysics, University of Lausanne (Switzerland)

Klaus Holliger

Germán Rubino
Rolf Sidler
Marco Milani

From The Rock Physics Network at ETH Zurich (ROCKETH)

Erik H. Saenger
Beatriz Quintal
Marcel Frehner
Bjarne Almqvist

Claudio Madonna
Nicola Tisato
Nima Riahi